Congratulations! You qualify to be accepted into John Thornhills
Partnership To Success Program at the best price ever.
Here is Your Priority Registration Form.
$2,000 Discount Offer Currently Open: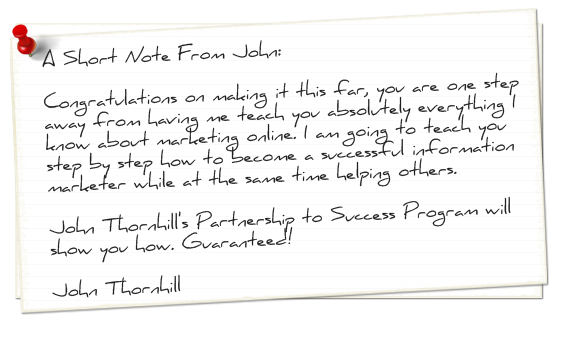 Check Out One of Our Most Recent Students Partnership Results...
"Over 6 Figures in 7 Days With my First Product"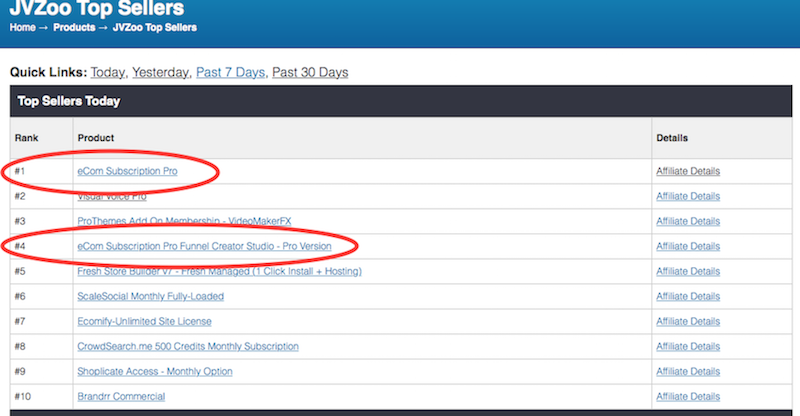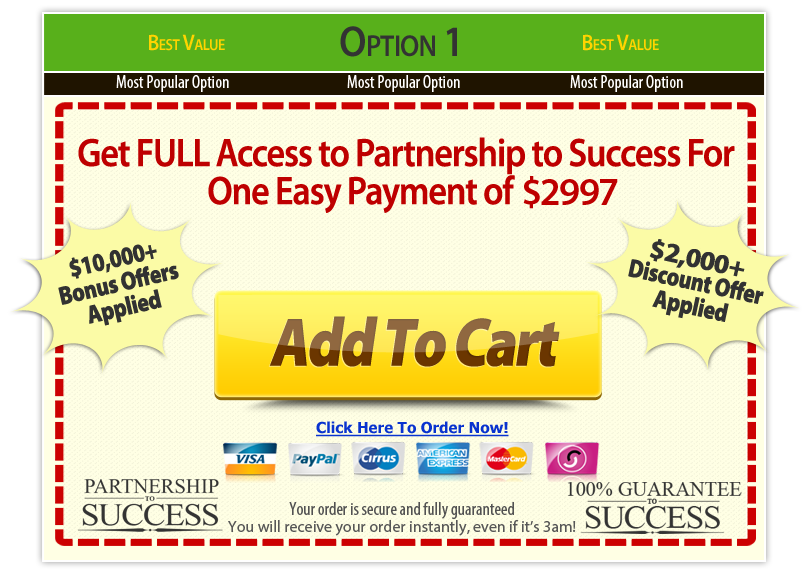 Recession Busting Payment Plan
12 monthly payments of $297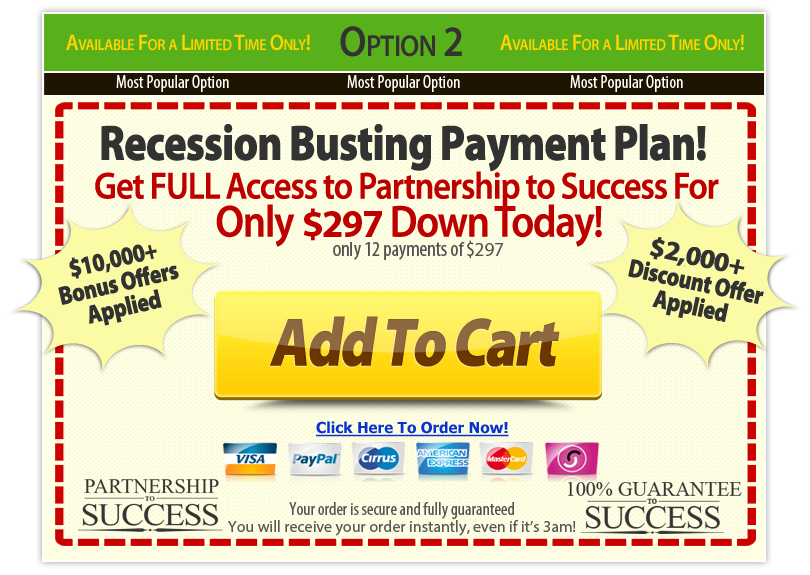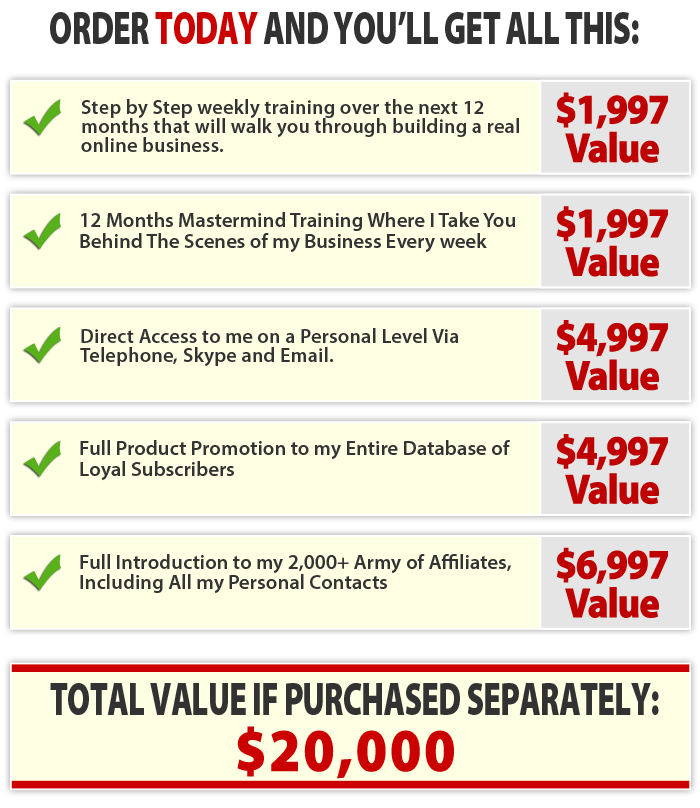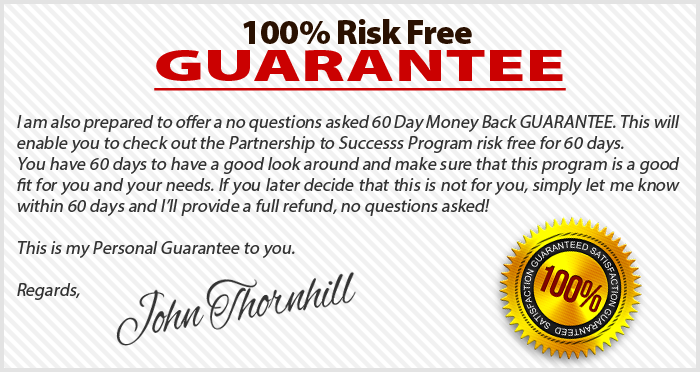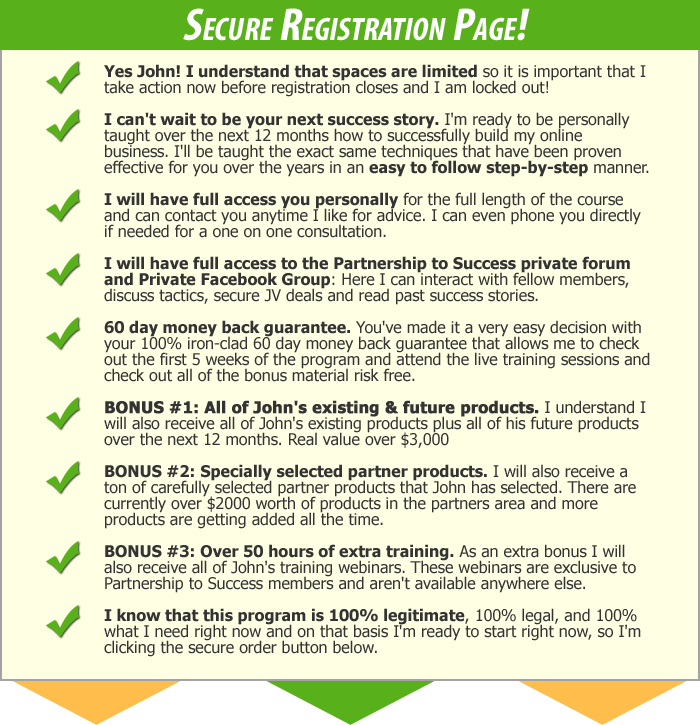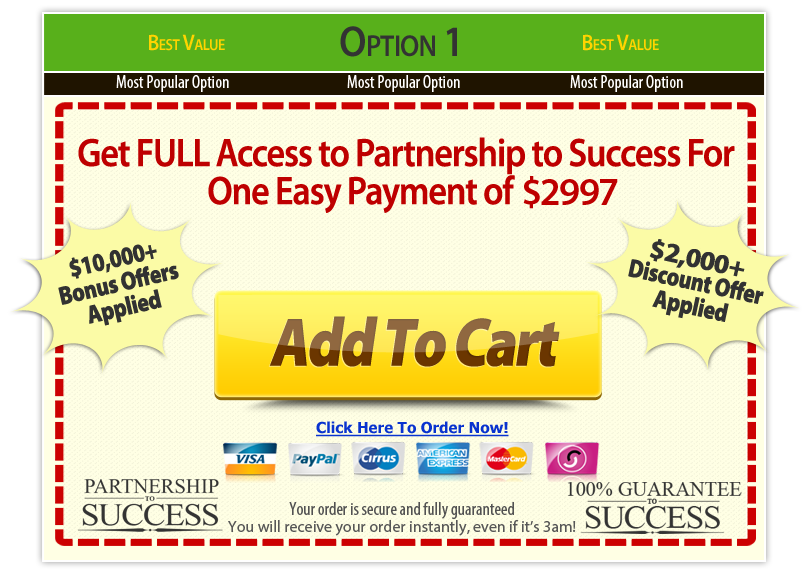 Recession Busting Payment Plan
12 monthly payments of $297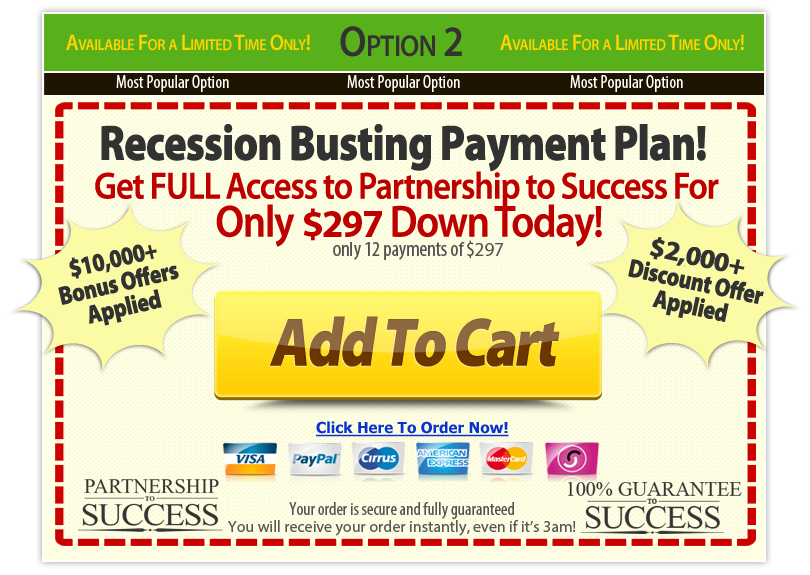 Click the 'Add To Cart' button above now and I look forward to hearing YOUR success story.
Remember! I have spent years and who knows how much money learning how to do things correctly. For a single investment you'll get to benefit from ALL my experience.
Just think about it this way, after following my training and guidance you can finally be in a position to start making real income online.
Invest in John Thornhill's Partnership to Success program now and let me reveal to you some of my most closely guarded profitable secrets so that you can achieve the success you deserve!
To your success,


PS. If you've tried to make money before and failed then it isn't your fault. Let me teach you everything I know about making money online so that you can avoid the pitfalls that others have to endure!

PPS. Remember, this isn't your usual fluff filled eBook. This is a complete step by step mentoring program that will take you by the hand and guide you to online income! Don't hesitate and invest NOW and take your first steps towards your profitable new online business!
Your Partnership to Success Program has been a revelation to me.
Not only have I been led by the hand when I needed it. After following your training for just six months I now have my first product online.

We had a very successful launch with 30 Day Traffic Flow and it has been a great start with more to come. Once my training with you started I realised I was doing something's right but was going down the wrong path with others.

You always go the extra mile and no one can say you don't give value for money.

Regards, Dave Whitworth.
http://www.30daytrafficflow.com
Hi John, Since joining your program my first major product launch Push Button Giveaways has grossed $6446 so far and $100s of recurring income is still coming in each month.
I have added over 16,000 subscribers to my list in 12 months and am generating a 4 figure monthly income from this.

I've made some useful contacts for the future with other students, who helped a lot with testing and improving my products and I've also done a couple of joint events. Hopefully I've been able to help some of them too. Looking forward to meeting all the new students.
Regards, Keith Purkiss.
http://www.pushbuttongiveaways.com
In January 2008 John launched his first coaching course and this proved to be a turning point in my online ventures. Through John's easy to follow tutorial videos I created my first eBook Prints Make Profits which is a step by step guide to my eBay niche business methods.

Fast forward to today I now have a second eBook Twit Masterclass on the market and I provide a weekly newsletter to my subscribers through my newsletter and tips and advice via my blog.

My subscriber list is growing steadily and so is my online income! John Thornhill's coaching programs have provided me with these tools and more importantly John's personal advice, guidance and assistance have given me the belief and confidence to realise my online potential.
Stuart Turnbull.
I would buy business blueprint products time and time again that would all promise me "easy overnight success and wealth", (yeah right) let me tell you right now there is no such thing, there is no magic pill PERIOD!

You see all the heartache and stress I went through was a blessing in disguise, because I had learned far more than I realised and more importantly it created the right Mindset I needed to stay in the game! John had all the airs about him of being forthright, honest and a dead cert as a MENTOR.

Put it this way, before John's coaching I didn't know what a domain name was and I didn't have a successful blog, but I do now and I also have a product selling online.
Thanks John.... John Edwards.
One of the products I had bought was John Thornhill's "90 Day PowerSeller". I decided to have a read. Something clicked when I started to read John's book. I liked his style of writing, I liked his honest truth.

Being an Aussie we like straight up honest people who will tell you how it is and John is exactly that!

My perseverance paid off. I now know how to build a website, create a blog, and create a product, set up an affiliate program, drive traffic, market and so much more! Thanks to John's coaching I now have the tools to create a future for my daughter.

They say when the student is ready the teacher will appear……………..
Jacinta Dean
I've always found John a wise, calm, fair and genuine person who has helped me out from such little things as `help, I don't think I've set this $7 script up correctly, what did I do wrong?' To advising me how I could better set up a backend to a particular product.

He's even contacted me out of the blue to ask me how I'm getting on with a project and offering to help in any way he can - reminding me that he's there.

I have to say that anyone considering hiring John as a coach is truly doing themselves an enormous favour. If he can't help you get a successful online business up and running, then no-one can.

Paula Brett
I was trying my hardest to make money online - buying into program after program and finding that either they didn't work or that I just didn't understand how to make them work. I was spending thousands but still I just could not find the way to make that first buck.

Then I joined John's Partnership to Success program. With his guidance I am producing my first product, staying much more focused - and saving loads of money because I don't have to buy any more packages/offers/shiney things!

I expect to release this first product within the month and I am confident of making much more than that first buck because John is promoting it for me! Then, continuing in the program, John will be working with me to build my store of products - and my income!

Jennifer Taylor
I initially found John Thornhill through eBay and have been on several of his mailing lists for a couple of years. It seemed like John became my "best friend" in that instant and the lessons began to arrive.

From day ONE I was glued to my computer screen. It was like nothing I had ever experienced in all my years of schooling.

Things got real serious real quick.The best part about it is not just the money I've made but the knowledge I've gained. I am finally making money in my sleep instead of just dreaming! For the sceptics, rest assured I am the real deal.

I suggest you stop wasting your time and just learn from John as I did. He will never steer you wrong, I am living proof and forever grateful.
Omar Martin



Terms & Conditions | Support